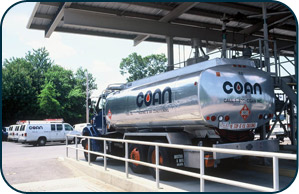 High-Quality Products Deliver the Best Value
Customers choose Coan Oil for quality, and we deliver. We seek out the highest-quality fuels and equipment and adhere to industry best practices in all we do. Quality products deliver the best results, which is what we want for every customer.


Fuels
On-Road and Off-Road Diesel Fuel
Coan Oil offers a complete selection of diesel fuels for homes and businesses in Metrowest. We sell both on-road diesel and off-road diesel at our Natick bulk plant, and we offer delivery of off-road diesel to homes, businesses and job sites.

Our diesel prices are low, and our plant offers easy access for all trucks, including trailers. Your driver won't have to wait long or make a payment, and we provide printed receipts.

To schedule a diesel pick-up, please call our office or contact us online.


Fleet Fueling and Diesel Delivery
We provide fuel delivery services for commercial fleets and to tanks used for fleet fueling, job site fueling and diesel generators. We deliver on-road and off-road diesel and offer flexible delivery scheduling to help customers minimize equipment downtime.

To request fueling for fleets, commercial locations or generators, please contact us online or call our office.