Coan Oil installs a wide variety of water heaters, including direct-fired systems that use their own burner and indirect-fired systems that draw heat from the boiler or furnace.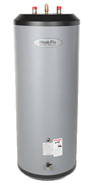 Heat-Flo

Located in Uxbridge, Mass., Heat-Flo manufactures hot water storage tanks that reduce energy consumption by accurately controlling the temperature and virtually eliminating heat loss during storage. Heat-Flo tanks feature stainless steel construction and for superior durability and full insulation for optimal efficiency. With all top connections, these versatile units can be piped to accommodate tankless coils, instantaneous water heaters, plate heat exchangers, or almost any hot water source requiring storage. Heat-Flo tanks come in 30-, 40-, 60-, 80-, and 115-gallon sizes. The largest sizes are ideal for locations with hot tubs, spas, and multiple baths.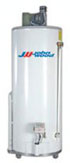 John Wood

John Wood's residential water heaters are manufactured to the highest quality standards by one of North America's leading water heater manufacturers, GSW. The John Wood professional line of products provides exceptional reliability and performance in the field and has earned the brand loyalty of professional plumbers and contractors across the country.

SuperStor

The SuperStor Ultra Indirect Hot Water Heater's high-output heat exchanger is engineered to accept a higher volume of heated boiler water with minimal pressure drop, which increases the SuperStor Ultra's capability to produce large amounts of hot water. You'll have lower operating costs and an abundance of hot water when you need it!



Tankless Water Heaters
A tankless water heater is an ideal solution for certain residential and commercial applications. Tankless water heaters can be more efficient than other water-heating systems because they heat water only on demand and do not expend energy maintaining temperature in a tank full of heated water. Ask a Coan Oil representative whether a tankless water heater is the right product for your home or business.


Controls
Some homes and commercial properties can achieve significant cost savings for a small investment through the use of advanced controls. One device that is particularly effective in the Massachusetts climate is a Tekmar® Outdoor Reset Control.

Outdoor reset can make a boiler operate more efficiently while delivering a more even quality of heat. An outdoor temperature sensor communicates with a control on the boiler, and the boiler alters its water temperature automatically to match the conditions outside. As the outdoor temperature falls, the boiler water temperature rises to meet the increasing demand for heat. As the temperature outside rises, the boiler water temperature falls.

Outdoor reset typically cuts heating bills by 5 percent to 30 percent.

We also install microprocessor-based oil burner controls like the Beckett Heat Manager that reduce heating costs by 10 percent to 20 percent by adjusting the system's operation to match the actual demand for heat.