Ask Your Insurance Company About Pollution/Oil Leak Coverage
All Massachusetts insurance companies must offer pollution/oil leak coverage to homeowners – but YOU have to ask for it! This is an affordable policy against potential leaks or drips from your oil lines, but insurance companies are not required to mention it to homeowners.
Coan Oil will perform the required inspection of your oil line and provide the necessary certification. This inspection will only take our technicians about 15 minutes. You must have a licensed technician complete the certification.
Contact Us to Schedule an Oil Line Inspection.
Oil Tank and Tank Lines
When the time comes to replace your heating oil storage tank, Coan Oil can install a high-quality replacement tank. We'll remove your existing tank, dispose of it safely, and install a new tank from one of the world-class manufacturers that we represent.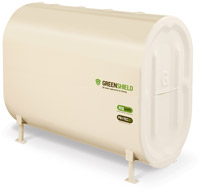 We can also upgrade the oil line that connects your oil tank to the burner. Massachusetts law now requires that fuel lines that are in contact with the floor either be encased in a non-metallic sleeve or have a safety valve installed. Coan has been installing oil lines in such manner since 1990, so most of our customers' homes are in compliance with the new law, which took effect in September 2011.

In addition to complying with the law, upgrading your fuel line offers several benefits. You'll be protecting your home, the environment, and your peace of mind by avoiding the issues associated with a fuel line leak. Fuel lines corrode or wear out over time just like any other metal device.

Since we cannot see your fuel line, we cannot inspect it, and various testing methods have proven unreliable. Therefore, we think the small expenditure required to upgrade your line is one of the best investments you can make.

Once your line meets the code, you will be eligible to buy coverage from your home insurer that covers losses from an accidental heating oil release. While such an incident is extremely rare, you may wish to provide yourself the peace of mind such coverage offers. The law requires the coverage be at a reasonable cost but homeowners are not required to purchase it. You'll need to speak with your insurance company about their specific coverage and cost.

During these difficult economic times, we know that any additional expense is a burden. Since we really want you to move ahead with this oil line upgrade (and a tank upgrade if warranted), we have a great offer for you:
A. A no cost estimate.
B. Extended financing: Three (3) years at 0 percent interest with a low down payment of 10 percent (of course, restrictions apply and the offer is subject to credit approval).
To learn more about the state law regarding oil lines, visit this page on the Massachusetts Department of Energy and Environmental Affairs website.

To request an upgrade to your oil line or find out if your line is in compliance, please call our office or contact us online.